You just finished a book you love.  Maybe you're an avid reader and you love most books.  Maybe reading isn't your thing, so loving a book is a pleasant surprise.  No matter which person you are, I bet you want your next book to make you feel the same way.  You may already know about Amazon's many ways to get you interested in buying more books (great recommendations to take to your local library or bookstore, too).  Here are several more ways to find similar books online.  (I'm going to use Gary D. Schmidt's Okay For Now, which was my favorite book of 2011.)
If you are looking for a book, why not start at a library's website?  One of the great things about the internet is that you can use websites from all over the world, so explore a little bit.  However, if you use your local site, most libraries allow you to place an online request, so you don't have to go back to the library over and over, hoping that their copy of Divergent will be on the shelf (not to say that happened to me … 😉 ).  Libraries are using many of the same tricks as Amazon to show you other books you may want to check out:
My personal favorite is my home library's page.  Perhaps I am biased, but look at all the information the Minuteman Library Network gives you!  Now, you do  have to look for it.  The top of the page doesn't tell you …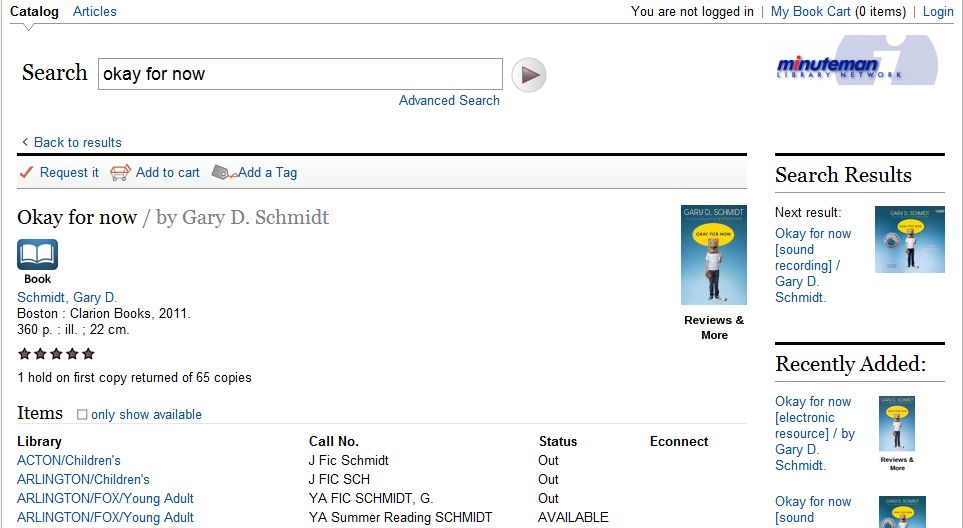 …the awesome stuff hiding down at the bottom!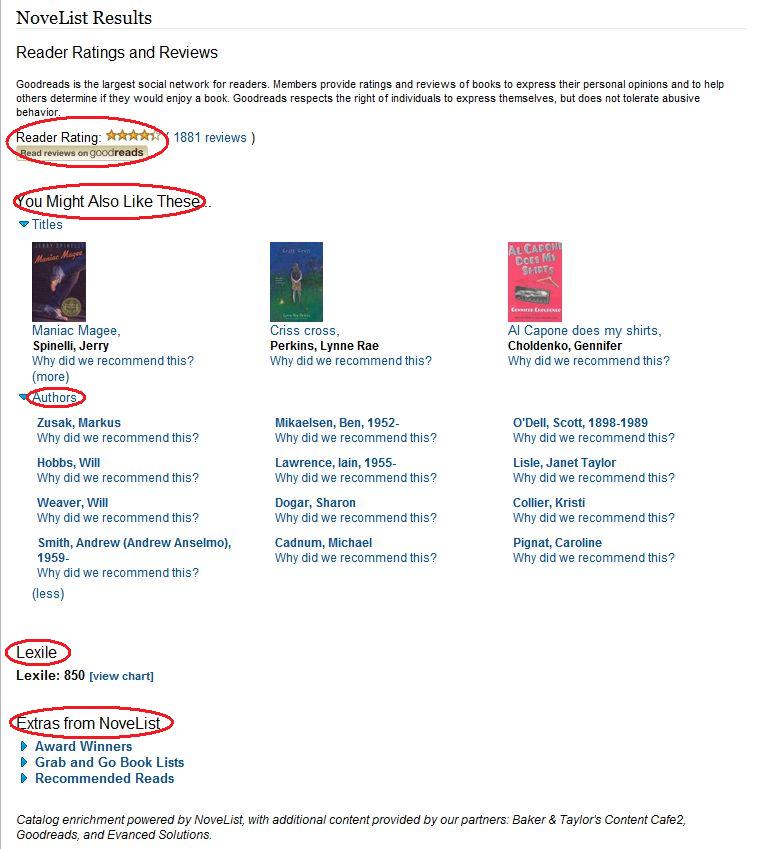 A link to Goodreads, which always make me smile.
Recommendations for similar books and – an unusual bonus – similar authors.
Lexile information to give you an idea of how difficult the book is (compare it with other books you have read and enjoyed).
Book lists.
This bottom material sometimes loads slowly, so give it a few extra seconds.

Like many libraries across the country, the Boston Public Library's catalogue includes links to book lists and tags, which the red arrows are pointing to. Libraries using the Bibliocommons service will have this material, including the New York and Seattle libraries, to randomly pick two.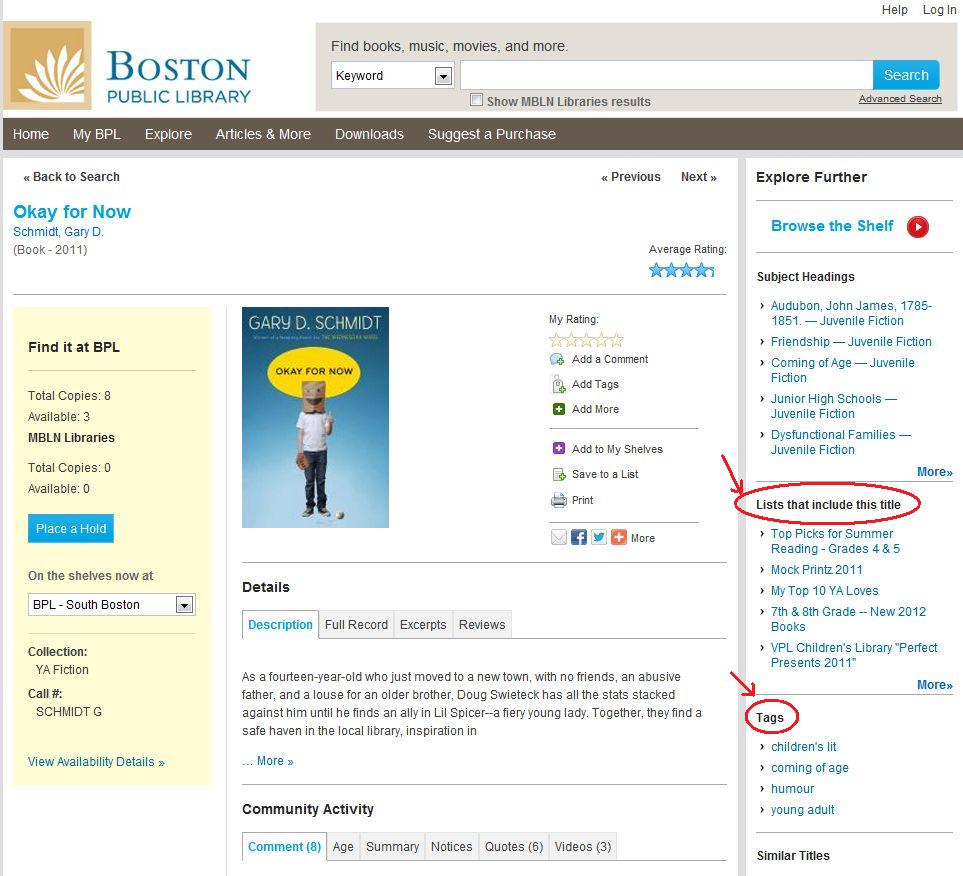 After the Minuteman Library Network, my next favorite source of recommendations is Goodreads.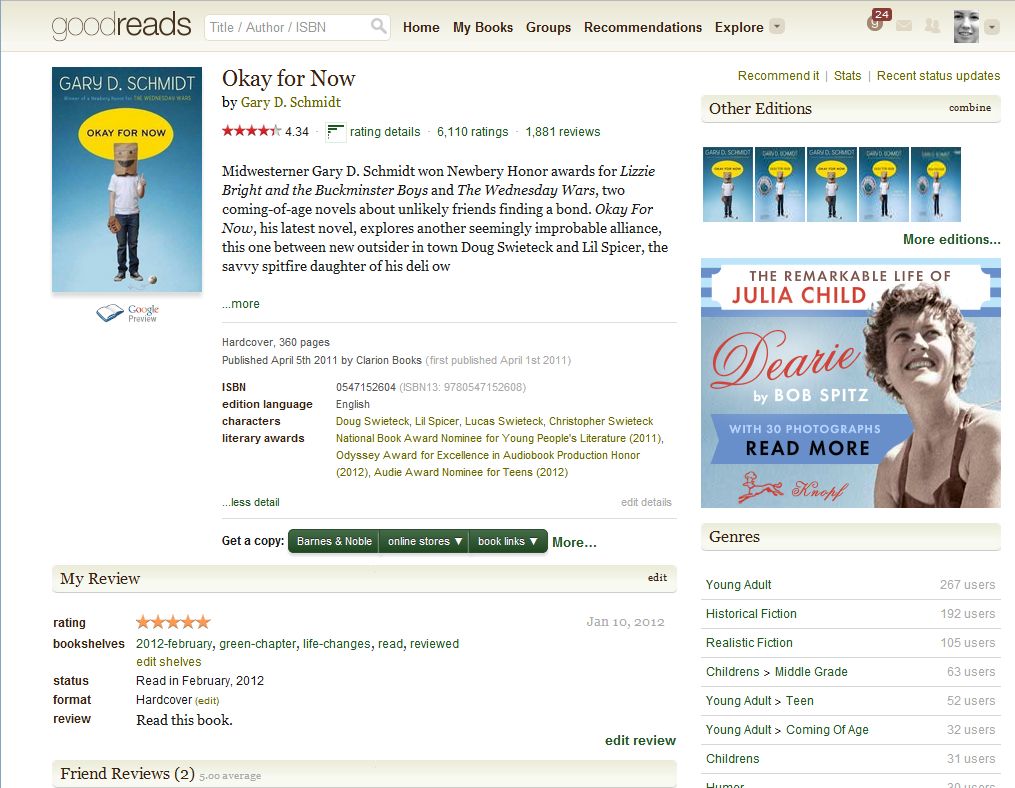 The right column, underneath the "Genres" list,  has "Readers also enjoyed…" recommendations:

Don't forget to click through several pages of recommendations.  Many books have 10-20 suggestions.  I think the computer created this list by looking at the books read by someone who gave Okay For Now four or five stars, and seeing what else they rated highly.  This gives really good results, because they are recommendations from people you know you already agree with!
Goodreads also links to lists and forum discussions that mention the book; both are in the left (main) side of a book's page: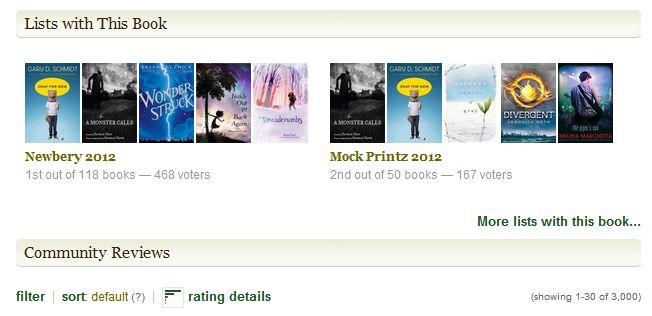 … and …

These aren't as reliable for finding "another book like that one," but they may introduce you to a book you would never have thought to try.  Keep in mind that anyone can add to and vote on lists – I tend to ignore books that only have one vote, assuming that if they are a good match for my interests, I will see them recommended somewhere else.
If I don't already have a pile of ten books to try next, I go on to:
Scholastic's Book Wizard  More information about beginning and middle-grade books than YA.  Also has various reading level measures.
BookPig  A book rental service similar to Netflix (yes, there is a membership fee if you want to actually borrow the books).  Just like Netflix, they have recommendations based on other users' borrowing habits, and you don't have to be a member to browse.
Amazon  I put this last because, honestly, it is my last stop.  More than any of the other resources listed, I find Amazon's suggestions are very popular books.  No, no – wait!  I'm not saying that you shouldn't read the popular books!  I'm saying that the other resources listed above will give you both popular books and secret treasures.  But if you haven't found a suggestion with the other websites, you might as well give Amazon a try.  I have had luck there, and you might too.  🙂
Recommended sites (click images):