Whether you are preparing for a standardized test or English is not your first language, you will need to learn about words outside a vocabulary workbook.  Professor Word is a useful tool for studying the new words you find everywhere.   It highlights SAT/ACT/GRE words in your browser and enables pop-up definitions for all words.  It is in beta testing right now, which explains some awkward interface issues (it doesn't seem to have an "off" switch), but it is still a valuable tool this back-to-school season.
ProfessorWord's home page: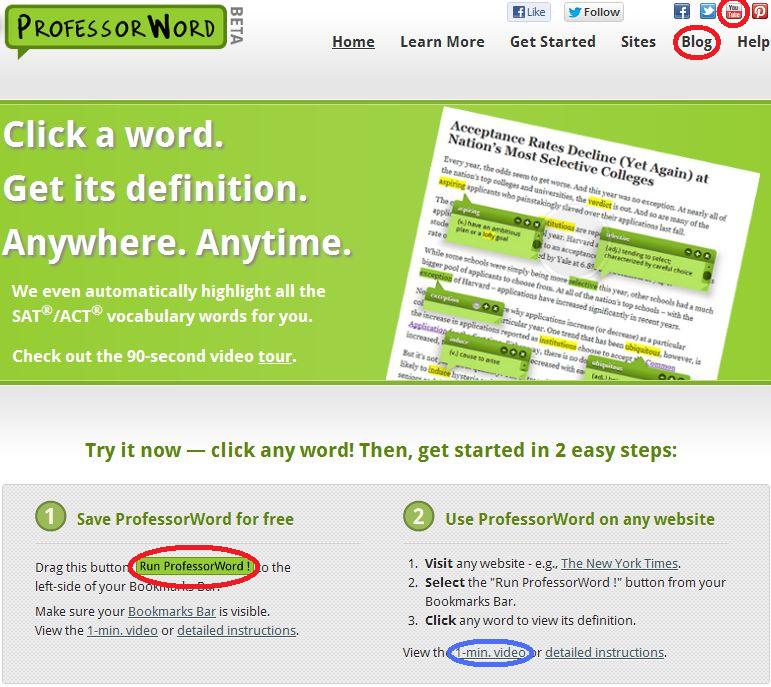 See those three red circles?  Those are my three favorite items on the homepage.
Run ProfessorWord:  Installing PW is as easy as dragging this green box to the browser toolbar.  Once you've done that, you can activate PW on any page; if you have multiple tabs open, it will only affect the active tab.
YouTube button: This brief video demonstrates the key features of PW.  Closed captioning is available and accurate, which is extra-helpful for ELL students.  The blue circle at the bottom points to an almost-identical video.  However, the YouTube version has information about installation, so use that one.
Blog: The blog offers great tips on taking your vocabulary beyond PW!
When you want to use ProfessorWord on a web page, click the bookmarklet you have added to the top of your browser.  A green PW icon in the upper left will tell you it's running.  Clicking the icon opens a menu that allows you to turn SAT/ACT/GRE highlighting on and off, among other actions.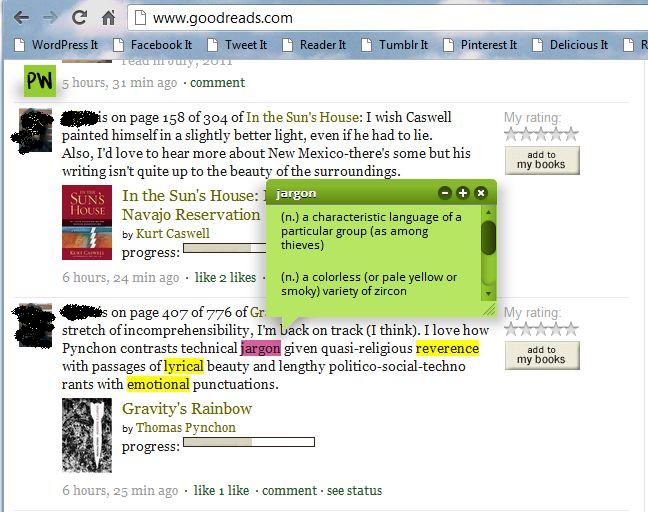 Clicking a word on the page opens a green bubble with the definition (here I am using it at Goodreads, a wonderful book website).  You can scroll in this bubble or expand it to show all of the text at once.  Notice that the bottom of the bubble links to three websites for more information.  I was so glad to see Merriam-Webster listed first because its definitions are better written than Dictionary.com.  (Dictionary.com also suffers because all the automated bells and whistles result in grammatical mistakes like "What is a jargon."  Jargon is an uncountable noun, so using the indefinite article "a" is incorrect.)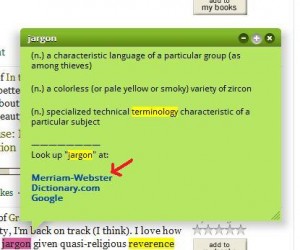 Look – even the vocabulary words inside the bubble are highlighted!  It's like the movie Inception …
Now, ProfessorWord is a great tool, but it is just a tool – you have to do the thinking.  In particular, make sure you study deeply enough for your goals.  Did you come across the word "jargon" on a page and wonder what the author meant?  For that, the green bubble gives you enough information.
However, if you are preparing for a standardized test, you need to take another look.  Of the three nouns, two seem to be about language and include descriptive words like particular, specialized and characteristic.  That middle definition definitely doesn't fit with the other two.  Let's click through to the Merriam-Webster website: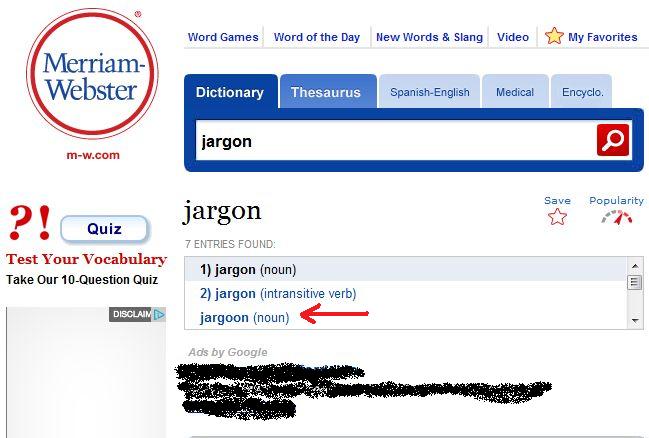 Click (and notice the spelling) …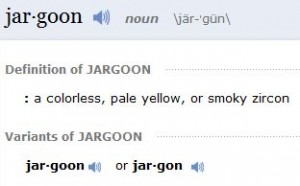 Ahhh – this is a different word with a different pronunciation.  "Jargon" is only a secondary spelling of the word and would not be used on a standardized test.  Now you know that if you see "jargon" on the SAT, they are not talking about yellow gems.  (Personally, I am relieved.  I have taken all three tests and never heard about this gem!)
You may have also noticed the intransitive verb listing.  The fact that it is not in the green PW bubble is a hint: this is another very rare use that would not be used on a standardized test.  This is why you must use your human judgment when learning vocabulary and not rely on a computer's inflexible program.
Recommended sites (click images):

 The site at the center of our conversation.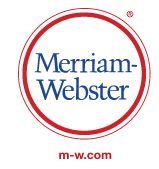 When you need a good online dictionary or thesaurus, head here.

Word Central is Merriam-Webster's children's dictionary & thesaurus.

 A book lover's dream website; I'm online daily.